The Bachelor of Kilkish
June 11, 2014 by Bottom Dog
Our 11th production and centre piece for Limerick City of Culture 2014, was the commission and production of a new play by Myles Breen.
With significant funding from the national city of culture project, Bottom Dog took on our most ambitious production yet. Our large cast, ensemble comic drama (on an elegant single location set) was the highest funded Made In Limerick theatre project of the year.
Written by Bottom Dog founder Myles Breen and directed by fellow company founder Liam O'Brien, The Bachelor of Killifish tells the story of a sixty five year old barber in a small seaside resort, Killifish, who is known by one and all in his close knit community as "The Bachelor". Over the course of a summer his place in this community is dramatically changed. The arrival of a young gay man forces "The Bachelor" to face up to the lies he has told himself and others. His relationships with friends are tested leading to rejection from some but also acceptance, and understanding.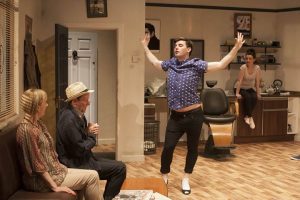 The cast was led by veteran actor Brendan Conroy as the eponymous Bachelor. He was joined by Clare Monnelly, currently featuring in the International Emmy Award-winning series Moone Boy, Deirdre Monaghan a veteran of the national theatre scene and recently seen in HBO's Game of Thrones, Pascal Scott a familiar face to TV audiences from Killinaskully, Limerick native Cillian Ó'Gairbhí whose one man show received rave reviews and Tipperary newcomer Stephen Tadgh.
A superb design team helped realise this huge production with Gerry Lombard on set design creating a magnificent seaside Barber shop. Accomplished musician Stephen Ryan of the Choice prize nominated band windings, also returned to collaborate with Bottom Dog for the third time, composing a beautiful score for the show. With lighting by ensemble member Pius McGrath and costume design by Sharon Kiely.
The production opened on June 11th and ran for three nights at the Lime Tree Theatre to over 1000 people and consecutive standing ovations.
We embarked on a short tour in week 2, taking in two nights in Kilkee and two nights at Friars's Gate, Kilmallock.
The show played to sold out audiences and continued receiving standing ovations every performance.
We have looked at the possibility of touring this production to over 21 interested and financially committed venues but to date have alas been unsuccessful in touring applications.
No Comments »
No comments yet.
RSS feed for comments on this post. TrackBack URL
Leave a comment