Drinking In America
February 7, 2017 by Bottom Dog
Our 13th main stage production is the Irish premiere of Eric Bogosian's Drama Desk award winning play, Drinking In America.
Having received the Limerick Arts Office inaugural Theatre Bursary of €2500, Bottom Dog staged a new version of this incredibly funny and moving show starring Artistic Director Liam O'Brien in his first acting role for Bottom Dog for 5 years, and his most challenging to date playing 12 distinct characters.
In an acting career that has taken him worldwide with the likes of Edward Hall's Propeller Shakespeare company, the West End production of the Rat Pack and of course several years starring in ITV's Emmerdale as curate Ethan Blake, Liam had focused largely on producing and directing for Bottom Dog since 2012.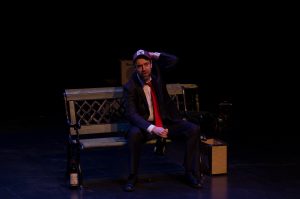 The play, described by the New York Times as "a breakneck, hair-raising comic tour of the contemporary American male psyche", features Liam in a multitude of different parts from a grasping showbiz hustler; a latter-day Willy Loman on the road; to a ghetto junkie.
Though the material was written and performed first in the mid-1980s, the rise of Donald Trump was one of the main reasons for choosing to perform it. When we first looked into producing the show, Trump had been nominated as the Republican candidate for president. The play had been sitting on our shelf for a decade and though the writing was still powerful we thought some elements were perhaps too dated.
But then we started hearing the words Trump was using and seeing the kind of vitriol he was generating. We were witnessing all the sorts of negative addictions – both literal and metaphorical – that we thought America had left behind, rising back to the surface. So there sat a play which maybe hadn't felt that relevant over the years, feeling more immediate than ever.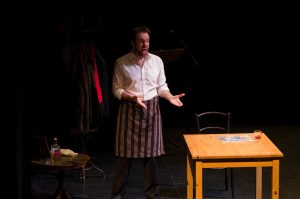 Approaching the 1980s text anew, we decided to collaborate with Choice prize nominated musician Stephen Ryan (windings) to make this more than just another one man show. On stage at all times, Stephen scores and often engages directly, performing a live soundscape that adds another contemporary yet reflective voice to this text.
Directed by New York veteran director Patrick J. Byrnes the production received an unparalleled authenticity in direction for each of the vastly different American characters and periods portrayed.
The production opened on February 7th and played for three nights at Belltable to over 350 people and consecutive standing ovations. We embarked on a short tour to St. John's Theatre, Listowel and Friars' Gate Theatre, Kilmallock.
We are now looking to tour this production throughout Ireland in late 2017, and aim to tour internationally in 2018.
No Comments »
No comments yet.
RSS feed for comments on this post. TrackBack URL
Leave a comment